The Clamps 2000 Ring
Introduction
Hi! Welcome to the Clamps 2000 Ring. This web ring's sole purpose is to provide a common link between all the web pages devoted to Clamp.
NEW! E-Zer way to add your page to the Ring!!
Want to add your great clamp home page to my ring? It's hard to do it the way I've listed? Don't worry! Now Here is the E-Zer way to add!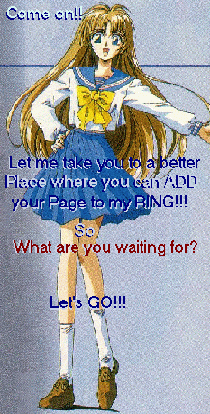 Click On ME!
Edit Your Sites Attributes
If you are already part of the Clamp Web Ring, and need to edit your site's attributes (URL, your e-mail address, site description, or password), enter your site ID and password below:
How To Join The Ring
Please follow the following steps to join the Clamp Web Ring! Before you do please read the guidelines.
Step One: You must add Html fragment somewhere in your homepage. Maybe on your link page (Hint, hint). So you might want to save this page, and this picture so that all you would have to do is cut and paste.

Begin Html Fragment

End HTML Fragment

Step Two: After copying the Html fragment above into your homepage fill out the below form to register your site and write down the Site ID number you are assigned. This will put your page in the Ring 'Queue', where it will remain until someone adds you to the ring. This does not insert you in the ring; the actual insertion is done later.
Step Three: Insert your ID number in the four references links (The buttons that say next, previous, skip, etc.) , but without the brackets.
Step Four: After filling that out please E-Mail me so I know you will be a part of the ring. In the E-Mail include the following:
Your Name
E-Mail Address
Homepage URL
Your Site Number
Your Password
E-Mail me NOW!
That's it! You should now be able to navigate the entire ring all the way back to your own page. An easy way to make sure it is working is to go to the homepage of the person who added you and see if the next button takes you to your own page.
The Pages must have something to do with Clamp, ie X, Tokyo Babylon, Rayearth, Sakura, Wish...etc. About anything is related to Clamp.
If someone asks to be added to the ring, have them make the necessary changes to their page, including all of the changes to the HTML fragment above that are necessary (e-mail address, graphics, site ID number, etc.) and check to see that they are correct before inserting them in the ring. This will guarantee that the ring will correctly function immediately.
THANKS FOR JOINING US!! WE REALLY NEED YOU!!